On-line store for purchasing jewelry NOW AVAILABLE

Note: sterlingstudio.net directs you over to earth.sterlingstudio.net (temporarily) both names are the same company

What makes the Sterling Studio stand apart?
The Sterling Studio specializes in designing original hand made Sterling Silver jewelry.

Some pieces may be one of a kind, others may be collages, part of a small run, part of a series or part of a collection.

The Sterling Studio also offers Sterling jewelry repair.

The Sterling Studio makes Commissioned Custom Designs in Sterling, Gold and mixed metal while using Fair Trade, Recycled and Conflict Free materials as much and as often as possible.

The Sterling Studio also carries a large inventory of hand selected retail designs and stones called "Side Lines" all of which are items obtained from other creative sources and not made by The Sterling Studio.

The Sterling Studio is a very small studio. It is not designed to manufacture large quantities or take "Rush" jobs.
~ Intention and quality matter ~

!! ALWAYS CHECK THE PHONE ANSWERING MACHINE MESSAGE FOR ANY OCCASIONAL SCHEDULE CHANGES ~  937 228 2278!!
NEVER go by what \ GOOGLE or YELP say ~
The Sterling Studio is regularly open to the public with no appointment necessary 
Saturdays: From 10:30am to 4:00pm
By Appointment ONLY
Mondays through Friday: From 5:30am to 7:00 pm

To make an appointment call 937 228 2278 and leave BOTH the reason for your appointment AND your contact information at the tone. 
SEE ABOVE (top of page) FOR ANY ANNOUNCED SCHEDULE CHANGES and BE SURE to check the phone answering service for any unplanned schedule changes.

Commissioned Custom Design and Sterling Jewelry Repair questions, assessments or quotes can only be discussed AFTER first seeing the item/s or drawing in question.  Be sure to read the "Services" page on this website BEFORE calling about these services, it will save time and frustration.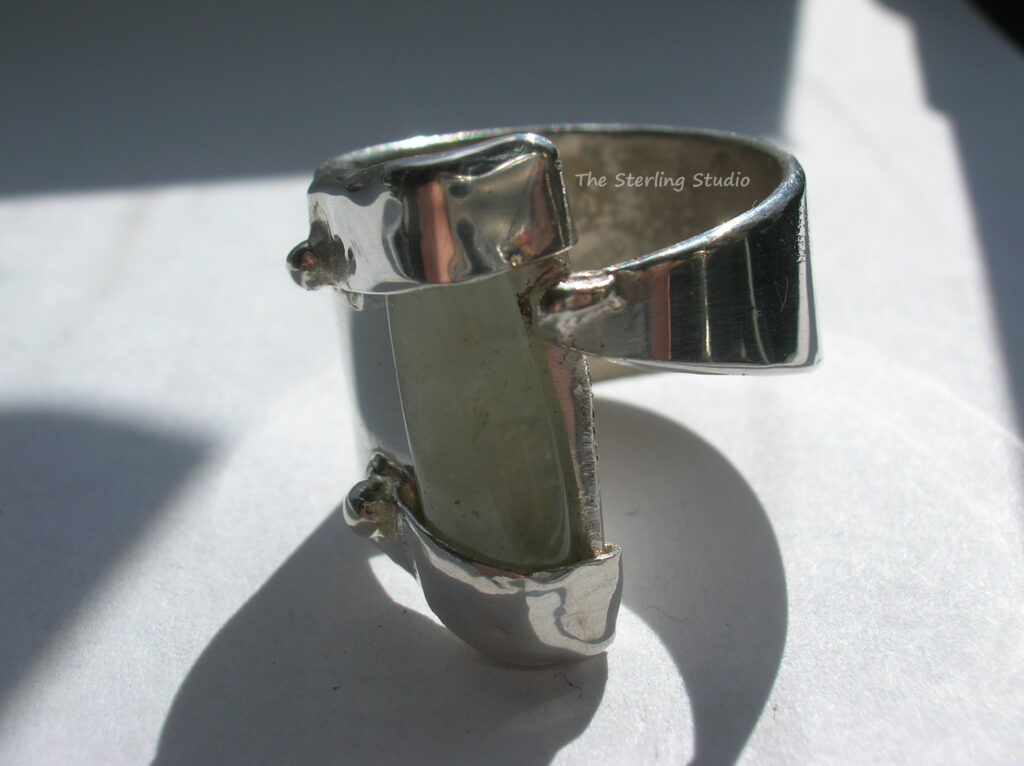 Sterling Studio Original Aqua Marine Ring
Call – 937 228 2278
For assistance, leave a message including both:
The reason for your inquiry

Your contact information
Vague or unclear inquiries will be considered telemarketing or solicitation.  They are unwelcome and will not be addressed – I am sure you can understand the burden these calls cause.  Messages are checked frequently.  Your call will be addressed shortly.  Be sure your inquiry was not already addressed by the answering service message.  Thanks for your respect on these difficult matters.

VISIT – 341 S. Jefferson Street – Dayton, Ohio 45402
Use the large FREE parking lot at the colorful K-12 building.
Walk around the Jefferson St. side of the building.  Go past all the planters to the very end of the building just past the garage door.  There you will find The Sterling Studio's entrance nestled in between the two Mermaids.  Ring the door bell or gently tap on the shop window – or maybe do both.
EMAIL – sterlingstudio@dayton.net.  Emails are usually addressed once daily.
NOTE – When sending items to the Sterling Studio be sure to use the correct address for your method of shipping or mailing
SHIP TO Address for UPS or FEDEX deliveries – 341 S. Jefferson Street – Dayton, Ohio 45402
MAIL TO Address for USPS deliveries – P.O. Box 1536 – Dayton, Ohio 45401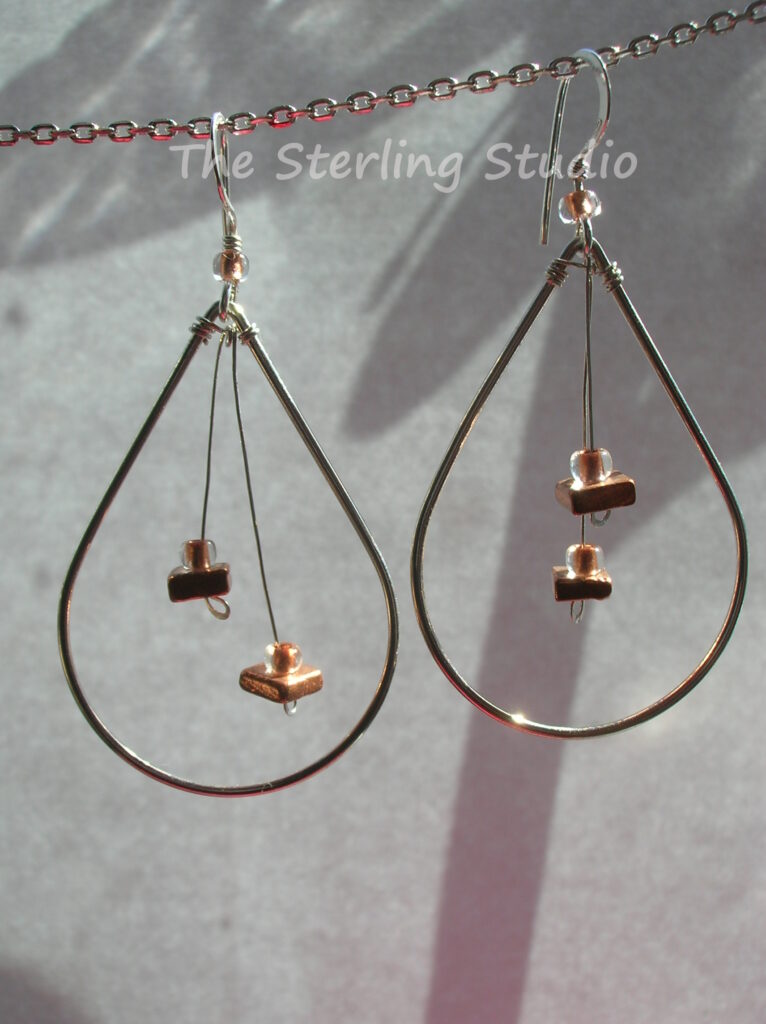 Pear Sterling Copper Plated Pyrite and Glass Earrings
Accepted Payment Options
The Sterling Studio does not accept Debit or Credit payments on Custom Commissioned jobs or Repair work.

Postal Money Orders, Cashier's Checks (pending our bank's approval and authentication) and Cash are accepted for Custom Commission and Repair jobs. ~ Absolutely NO pieces will be shipped out before we receive payment confirmation from our bank!  Sometimes payment confirmation is not immediate and we cannot do anything about it. ~


Master card, Visa, Cash and Postal Money Orders and Cashier's Checks are accepted on everything else.
No items have been "touched up" in any of these photos on this site but the background may have been cleaned up at times.
~ The Sterling Studio reserves the right to override any misprints or errors found on this site ~
The Sterling Studio est 1992