Sterling Studio Commission Custom Design Creation Services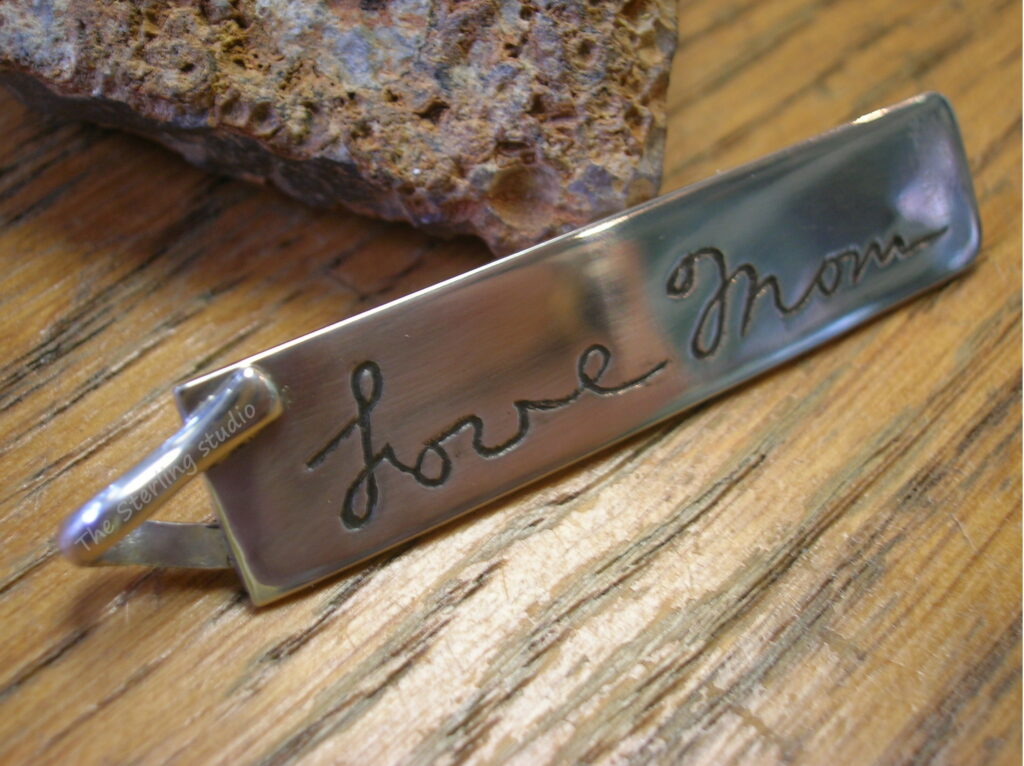 Mom's words, Mom's message, a Daughter's Keepsake Pendant
As of February 2022 no more Commission work will be taken in until further notice.  If Commission work  resumes, it will be posted on this website and everything written below will once again apply.  Thank You
Commissioned Custom Design takes a minimum of 6 – 8 week (+plus) so plan early !!
With a TO SCALE" visual of exactly what you want commissioned, there will be little or no design fee. Your request will be quoted as drawn.  An acceptable "To scale" drawing means exact measurements including views from all angles necessary.  The visual you supply must be your own creation.  You will be required to sign a waiver stating this is 100% your design in order to release The Sterling Studio from any copyright infringement liability.
Without a "TO SCALE" visual, then the process begins with a non-refundable design fee paid up front which varies based on the complexity of design as discussed. 
All Sterling Studio designs remain property of the Sterling Studio and images of them all may be used on this site or in other Sterling Studio publications.
Quotes are good for two weeks. If your design needs quoted a second time, there will be a fee if two weeks time has passed or precious metals prices have changed substantially since the first quote was made. Quotes include a 10% leeway.
If you provide the stone/s or any other elements, you must supply purchase price, materials, treatments, and previous repair history on the parts you provide. Vague, false or incomplete information will release The Sterling Studio from any potential liability of damage to items you supplied.
If you have a date by which you'd like to have a piece commissioned, be sure to have everything above completed 6-8 weeks prior to that date.
The Sterling Studio reserves the right to refuse work.
It is highly recommend that you support the original artist or business that owns the design you are seeking.
The Sterling Studio is known for Sterling Jewelry but does Commission Custom work in Gold and/or a combination of both.
All designs created by the Sterling Studio always and solely belong only to the Sterling Studio.  We will not knowingly copy anothers' design.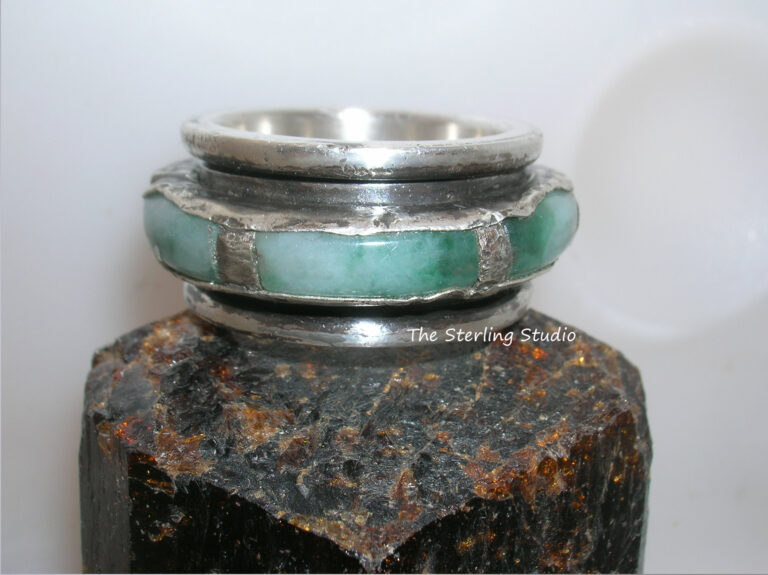 Above: Customer wanted his two rings combined to look like an artifact.
Below: Customer wanted the raw Sapphires she found made in to a Pendant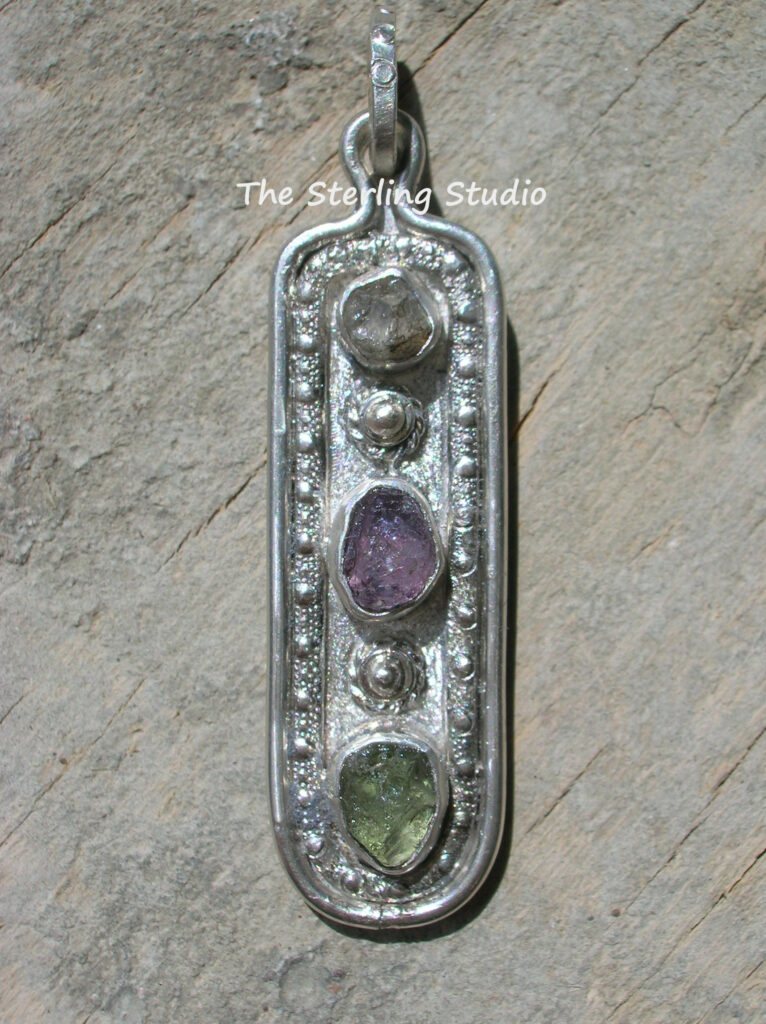 Sterling Studio Sterling Jewelry Repair Services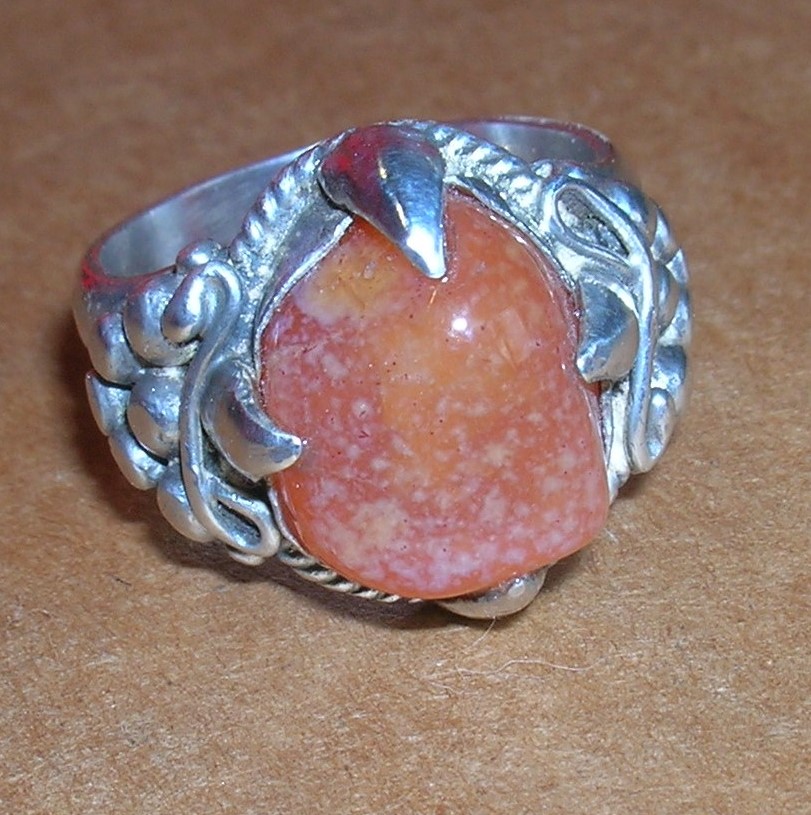 As of June 2022 no more Repair work will be taken in.  If Repair work  resumes, it will be posted on this website and everything written below will once again apply.  Thank You
~ VERY Helpful hints about Sterling Jewelry Repair  ~

#1) Repairs can NOT be assessed nor quoted by phone. They must be seen in person to be evaluated.  See more below.
#2) The price you paid for an item has absolutely – nothing – to do with the price of quality, professional repair work.
#3) In the case of items sold with instructions like "You can take it to your local jeweler to be sized" or "Needs minor repair", it is recommended that you clearly understand the return policy of the seller – if any – as this is not always the case or financially feasible.
#4) Determine if the piece is worth it to you to quite possibly pay more to fix it than you paid to purchase it. Much of the jewelry sold today is not suited to repair costs. So if you did not pay much for it and it is not sentimental, then repairing the item may not work for you.  Exceptions to this might be the replacement of detachable components like clasps or ear wires.
#5) Other than basic watch band repairs or replacement, the Sterling Studio does not repair watches or replace batteries.
#6) Repaired jewelry often may look a bit different when completed. There are too many reasons why to state here.
For all inquiries on repair services
The most certain way for your piece to be properly evaluated to see if it can be repaired here is to bring it in to be assessed. If you cannot bring the item in, then send clear photos from all angles with a size reference in each photo, like a ruler or a penny, to sterlingstudio@dayton.net. This is not as fast nor as certain but it ~might~ help. 

If you choose to send an item to be seen or repaired;
#1) Include in detail exactly what you want done along with accurate return mailing and contact information.
#2) Include proof of purchase price, history of previous repair work done on the piece, stone condition and treatment information like; genuine, simulated, heat treated etc.
#3) Be sure to send your item to the appropriate Sterling Studio address which will vary with the shipping carrier you choose to use.  See "Call Home" page for shipping and mailing information.  Vague, incomplete or misinformation provided to the Sterling Studio releases the Sterling Studio from any damage done to your pieces as a result.
The Sterling Studio does not repair Gold – except – to replace simple detachable components – while you wait ! You'll need to return with your item for repair if parts need to be ordered.
The Sterling Studio does not repair Platinum or Steel.  The Sterling Studio does not take "Rush Jobs" so plan early in time sensitive situations.
  The Sterling Studio does not repair non-jewelry items, Class Rings and does not buy or sell used jewelry, items or scrap.
The Sterling Studio does not accept Debit or Credit payments on Custom Commissioned jobs or Repair work.

Postal Money Orders, Cashier's Checks (pending our bank's approval and authentication) and Cash are accepted for Custom Commission and Repair jobs. ~ Absolutely NO pieces will be shipped out before we receive payment confirmation from our bank which may very well differ from information that you receive from your bank!  Sometimes payment confirmation is not immediate and we cannot do anything about it. ~
~ The Sterling Studio reserves the right to override any misprints or errors found on this site ~