Sterling Studio Collages - Collection - Series - Runs
There are so many ways to address a design.  This makes way for progressions of methods, avenues and techniques. 
Collages are new jewelry pieces made from old favorite or sentimental scrap, broken or worn jewelry parts and pieces you no longer wear but don't want to part with.  That lone earring or that ring with the crack in the back.  These pieces can be transformed into a pendant, bracelet or a new ring maybe.  We will figure it out when we see what pieces you have to work with.  This is a 3 way win.  Old things get a new life and are worn again.  You get a new piece of jewelry filled with RECYCLED memories.  No more Earth has been excavated to create your piece! 
Collections are a group of favorite designs that just keep expanding like our "Warped Hearts" or our "Earthling Collections".  As new inspiration comes – the line grows.  These pieces are usually cast and finished by hand.
Some pieces become a Series where each one is made by hand using the same method but varies from piece to piece depending on the stone like our "Folded Jewelry" or our "Squiggle Pendants".
Runs are favorites that have been cast then finished individually by hand like our "Ancient Royalty" our "Hand Up" or some of our "Chakra Pendants".
Sterling Studio Folded Jewelry Series
With these pieces, the metal is shaped and folded around and holding an element using using little or no solder in the process.  Each Folded Jewelry Item takes on its own shape.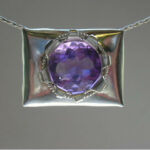 Sterling Studio Gripper Setting Series
This setting is perfect for stones too pretty to only show one side or an old Ship Wreck Coin.  Each frame is made specifically for and around the center stone or element.  Carefully crafted and placed Grippers hold your keepsake securely giving it maximum visual appeal.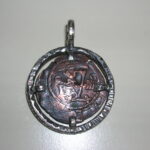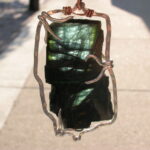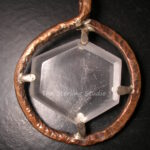 Sterling Studio Lantern Series
This setting is a fun secure way to showcase long or block shaped crystals or elements.  Lanterns can be simple and clean, ornate or funky.  No two ever come out the same.

Sterling Studio Squiggle Series
This setting shows off both Faceted and Cabochon stones very well.  The shapes and sizes of the curves are dependent upon the stone that is being captured.  A complicated setting in an extremely simple fluid design.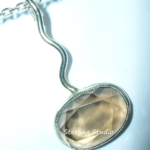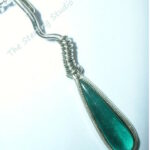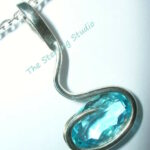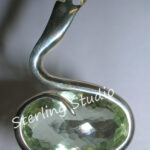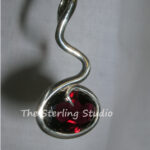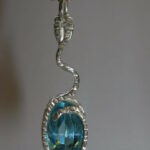 Sterling Studio Rose Series
Each rose is made by hand individually so no two are alike.  The double dangle Rose earrings are actually two sided Rose Beads.  That is how one pair of earrings can be an entire 1/2 dozen Roses.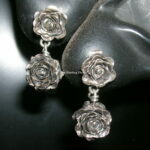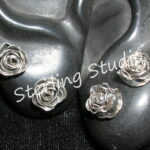 Sterling Studio Itty Bitty Pendant Series
Our adorable tiny stones are set in pre-made settings and are available in 3mm, 4mm, 5mm and 6mm.  Some are Cabochon some are Faceted stones.   Amethyst, Iolite, Blue Topaz, Lapis, Blue Onyx, Sapphire, Peridot, Malakite, Green Onyx, Jade, Green or Pink Tourmaline, Citrine, Carnelian, Amber, Garnet, Ruby, Herkimer Diamond, and more –  depending on available inventory.  Email us at sterlingstudio@dayton.net for assistance with your request.  ~Please note address has changed since these photos were taken~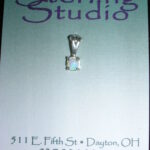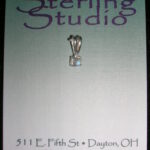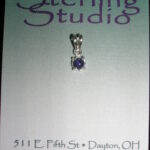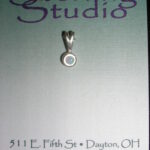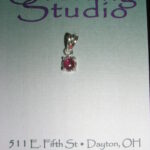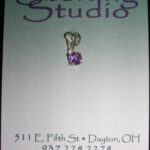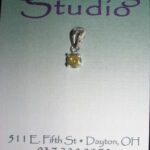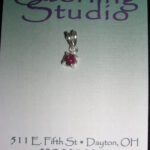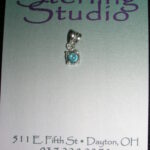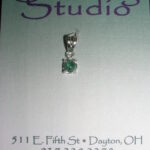 Sterling Studio Shutter Series
The Shutter setting really focuses on the center stone/s.  Made up like a frame, the shutter like sides all overlap the one before then tuck under the next so your eye flows around the entire piece smoothly.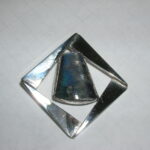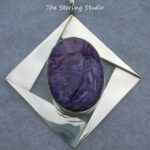 Sterling Studio Memory Capsule Collection 
Encase your special memory in Sterling and Glass
These pendants have approximately a 1/4″ deep compartment with enough room to seal a lock of hair, ashes or other small treasured memories. The round Memory Capsules come in 18mm and 25mm round.  The oval comes in 18 x 25mm and can be ordered to be worn either vertically or horizontally.  Each size has a different pattern around the edges.  These piece are built to hold your memories safely.  Keep them dry, do not get them wet.  While they are sealed, they are not 100% water proof.  Bring in a good color copy ~ not your original photograph.  It will be magnified under glass with your mementos neatly sealed up inside.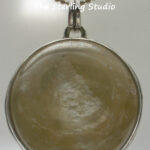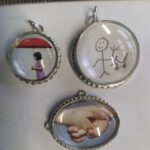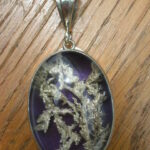 Sterling Studio Universal Earthling I.D. Jewelry Collection
In case you are space traveling, wear this I.D. Jewelry and it will help to make sure you are returned to your proper planet if you get lost.
Not from around here?  We can make an I.D. for your home planet too!  Just let us know if we can help.  Available in link, Cuff and Bangle Bracelets, Pendants or Necklaces Earrings and Rings.
See more Extra-Terrestrial jewelry when you begin shopping on our "Shop" page!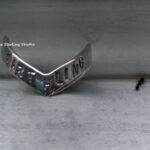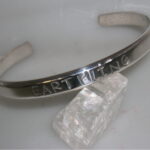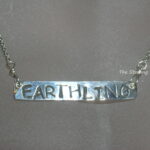 Sterling Studio "Warped Heart" Collection

Oh the stories our Hearts could tell if our hearts could talk!  This Collection began as a joke and kept growing from there.  Each one loves to a different beat.  Be sure to watch for new designs to come!

Sterling Studio Chakra Pendant Series/Collection/Run

Energy alignment through Stone and Color
Sterling Studio Chakra pendants take many forms.  You can have one specifically made with stones you choose.  Your stones can be either Cabochon or Faceted or a mix of both.  You can choose a beaded one, a hand made one or a cast one.  Our selection keeps changing.  Not all are pictured here.  If your Chakra needs different colors or specific stones not included in our preferred stone list, we will be happy to see if we can accommodate your personal Chakra.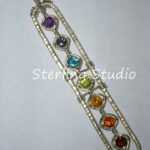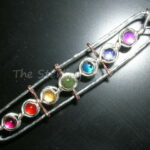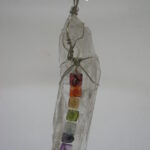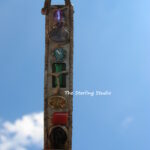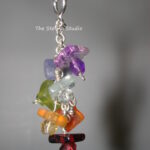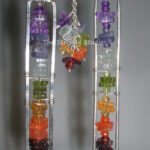 Sterling Studio Pea Pod Series
Sterling Studio Pea Pod Settings keep stones nestled together and embraced like peas in their pods.  This setting works best with fairly uniform size and shape stones.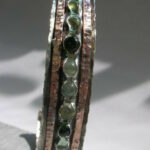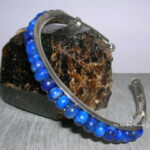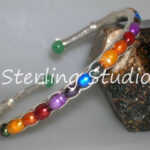 Sterling Studio Short Runs
These are pieces are molded, cast, then all the finishing work is done here in-house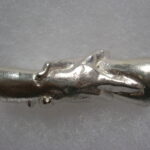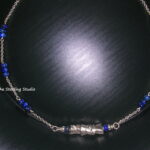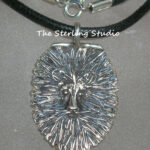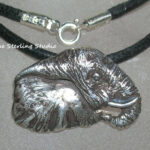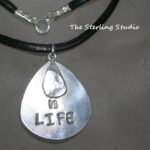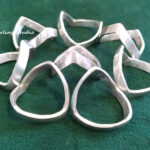 Sterling Studio Collages are always "One of a Kind"
These pieces are thoughtful re-creations combining your treasured parts and pieces into a new form for more years of recognition, memories and wear to come.  Give your old jewelry a new life!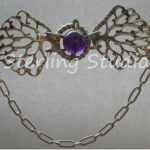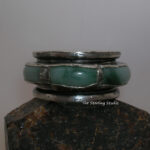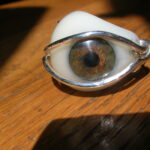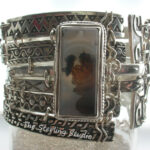 ~ The Sterling Studio reserves the right to override any misprints or errors found on this site ~